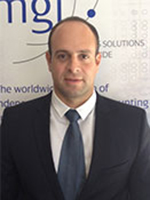 It is a great pleasure to welcome you to our web site. I would like to take this opportunity in order to give you a brief overview of our Firm.
Brief Overview of Our Company
Our History
MGI GREGORIOU & CO LTD was founded in 1973. Over the years our Company has experienced a substantial growth and today we are one of the leading accounting companies in Cyprus with more than 90 directors and employees and with offices in all towns, offering the most comprehensive range of services to our clients. We offer the range of expertise and experience of a national practice whilst at the same time offering personal services.
Our company is a member of the Worldwide Association of independent auditing, accounting and consulting companies which is represented in over 280 offices on all continents in more than 82 countries.
Our Clients
The clients of MGI Gregoriou & Co. Ltd, public and private companies, partnerships and individuals are closely associated with the company's history for 40 years and they enjoy the personal service of our directors and of our experienced personnel.
MGI GREGORIOU & CO LTD is a Company of difference
Over the years we have built a reputation for being as imaginative as we are persistent, as assertive as we are credible, for dealing at the "sharp end" for our clients and achieving results. People are often referred to us because our skills are multi-disciplinary and underpinned by a belief in finding a lateral approach to every business problem. Creating inspired solutions to deliver the best results.
With us:
You will always be a valued client
You will have a strong personal and professional relationship
You will anticipate new ideas and inspired solutions
You will realize that our integrity is never compromised
Both myself and the other Directors of our Company are more than happy to discuss your needs and provide you with the best possible solution.
Yours faithfully,
Nicholas A. Gregoriou